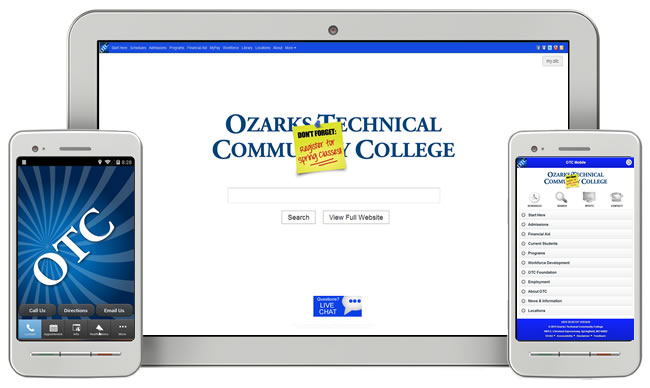 OTC Mobile Website & Apps
OTC offers a fully mobile website built for most any device. Additionally we have a few mobile apps that put some high level information in the palm of your hand. This page details some of the mobile initiatives both native apps and mobile websites that offer essential OTC information on any web-enabled smartphone. For visitors and the OTC community, mobile apps give you the OTC experience when you are on the go.
As Technology integration becomes available, OTC's Web services Department and Information Technology Department will work to make those features available.
OTC Mobile Website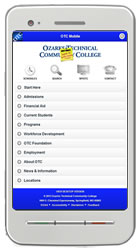 The OTC Mobile website is a College-wide initiative to improve the mobile experience of students, faculty, staff, visitors, and neighbors who interact with OTC's campus and community. Released in January 2013, OTC Mobile is the latest version of the website with a number of functional, design, and content enhancements including OTC Schedule Seach.Find OTC Mobile at m.otc.edu on the mobile web on your web enabled phone or tablet device
OTC News & Info App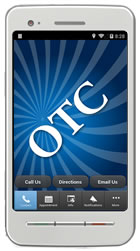 The official app for Ozarks Technical Community College (OTC) offers useful tools for current students, prospective students, and friends/visitors.
Keep up to date with campus news, including important alerts via Push Notifications. View and search class schedules or programs directly from your phone.
+Please note that this App does not offer Blackboard or my.otc.edu connectivity. Please use Blackboard App below for that feature.
OTC Blackboard Mobile


Blackboard Mobile takes interactive learning to the mobile device, giving you instant access to your courses, content, and communities anywhere. Blackboard Mobile Learn is a mobile app available currently on the iTunes App Store for iPhone, iPad or iPod Touch, as well as on the Google Play store for Android devices. The is free todownload, however Blackboard does charge a nominal fee of $1.99 per year or $5.99 for life. Please see the links below for details.